A lot has happened since we announced Hack. We've already highlighted our Hack developer day, as well as posting a series of community roundups (one, two, three) highlighting the projects that our amazing Hack community have been building.
However, one thing we haven't talked about much is the progress and evolution of the language itself. We've been busy driving the language forward, improving its PHP base as well as adding new features requested inside and outside Facebook to further increase developers' productivity. But unless you're the sort of person that reads every commit going into the HHVM github repository or every change to our docs site, you probably have no idea about any of these changes since we haven't talked much about them yet.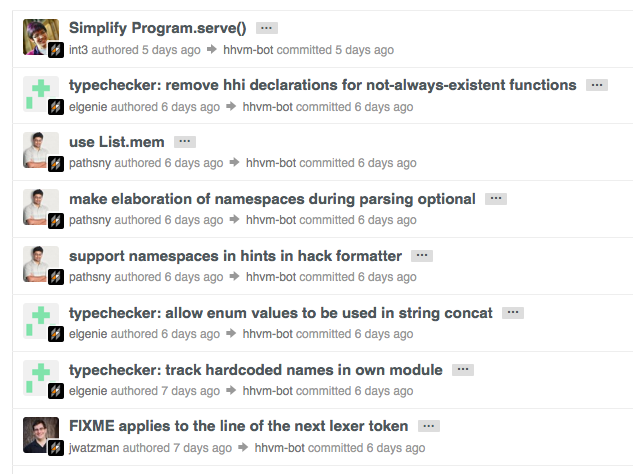 Over the next few weeks, we'll be making a series of posts talking about all that has happened to the language over the previous months to continue driving it forward. Some of the things we're planning to talk about:
Typechecking new static()

Interface requirements and trait requirements

First-class enums

HH_FIXME and other error suppression mechanisms

Better understanding the type signatures of the PHP standard library

OS X support

Covariance

The nullsafe operator
In short, a lot has happened to move Hack forward since its launch, and we're excited to talk about it now – and there's a lot more on our roadmap, so stay tuned for some of our future plans as well.
Comments